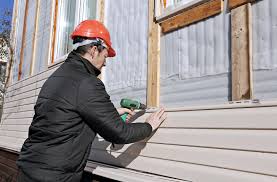 Siding Denver, CO
Siding repair is one of the most underrated home improvement projects, but there's a good reason for property owners to invest in it. A home needs siding repair or replacement when you're forced to pay for frequent repainting or if you have high heating and cooling bills, or when the sidings start to rot or warp.
Professional Siding Repair in Denver, CO
M&K Restoration is the most trusted siding repair contractor in the Denver area. A house that wears badly deteriorated sidings loses a considerable chunk of its aesthetic value. Call us today for an expertly done siding repair and restoration job. Dial (303) 548-4982. We're more than happy to lend a hand.
Siding repair may not be on your list of home improvement priorities, but you can't ignore that awful looking exterior forever. As the top siding Denver, CO repair and replacement company, we give you a reasonable price package coupled with a guaranteed transformation of your exterior.
Why Choose Us?
M&K Restoration offers Denver homeowners the best deal for a siding repair job. Our advantage is unsurpassed and incomparable reliability. No other roofing and restoration contractor can provide the following:
Free and quick estimates
Extended workmanship warranty
Extended material warranty
Qualified and trained siding repair experts
Years of experience in residential siding repair and replacement
Reasonable pricing and flexible payment plans
Wide Array of Siding Repair Services in Denver, CO
We are a company that specializes in addressing all types of siding repair needs, regardless of how big or small the project is. M&K Restoration has a crew of highly experienced roofers who have the expertise in siding Denver, CO repair, restoration, and replacement.
Our siding repair services include:
Loose Siding Repair
Siding Repaint
Siding Retouch
Damaged Siding Repair
Siding Replacement
Fix your siding today to retain or even increase the value of your property. It is one of the most affordable improvement projects right now. Call (303) 548-4982 today, and we'll get right down to business. Contact us, and we'll send our guys to your house for a professional inspection. We will determine the magnitude of the work needed to restore your siding.
At M&K Restoration for siding Denver, CO repair, we hand out a free estimate to all our prospective clients with no obligations on your part! We believe and respect your right to do a comparison shopping. Rest assured, our quotation is the best deal out there!
If you have some more questions about our professional siding repair services, you can fill this form.
CALL TODAY FOR YOUR FREE PROPERTY ASSESSMENT
M&K Restoration offers free inspections & free estimates with no job too big or too small!
Speak with our friendly team members today for your FREE inspection by one of our qualified Insurance Claims experts!