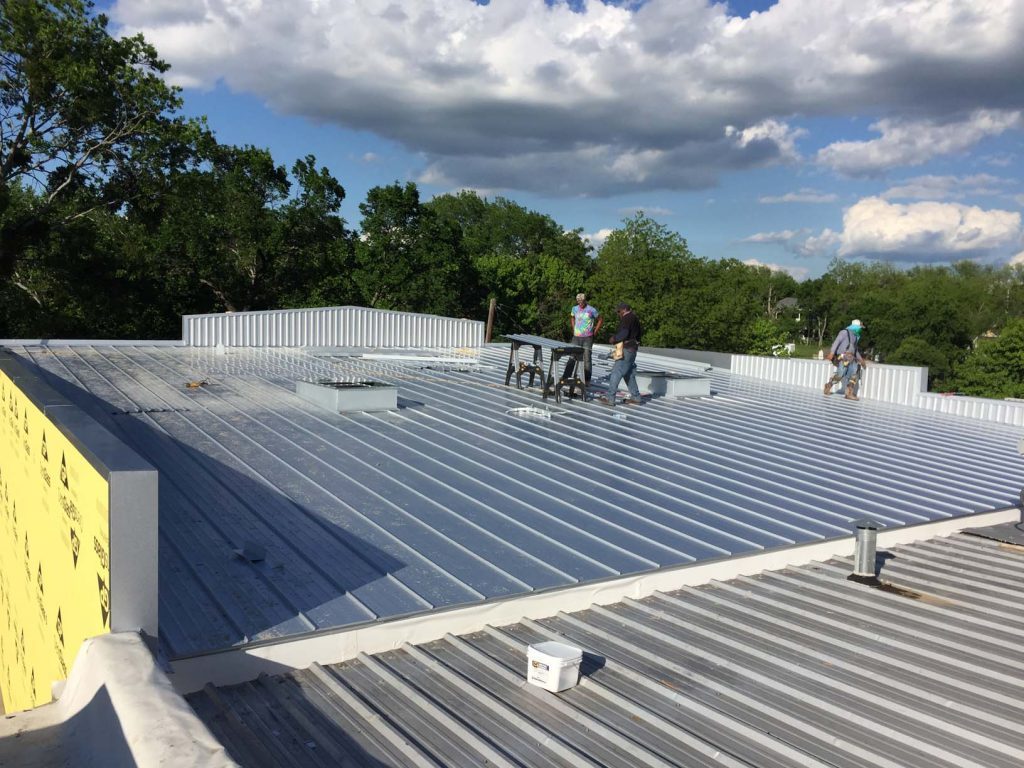 Commercial Roofing Denver, CO
M&K Restoration is an industry leader in commercial roofing services in Denver and neighboring cities and towns. If you are looking to replace your commercial building's roof with a flat roofing system, then you have come to the right place.
Commercial Flat Roof Experts
It's a challenge finding the best roofing solution for a commercial building or structure, more so working with a contractor with legitimate experience in the installation, repair, and maintenance of flat roofing systems. With M&K Restoration, you work with a company that has over 30 years of experience.
Don't expect that all contractors you meet in the Denver area are legitimate commercial roofers. Some companies pose as qualified commercial roofers, yet the only jobs they've had are residential roof replacement and repair projects.
We have worked with an extensive range of buildings, business establishments, and industrial complexes in the installation and repair of flat roofing systems. Our comprehensive services for commercial flat roofs include:
Roof Replacement
Low Slope Roofing Installation
Single Ply EPDM and TPO
2-Ply Modified Bitumen
Tar and Gravel Roofs
Extensive Network of Contractors and Suppliers
Despite the expensive outlay in the replacement or repair of a commercial flat roof, our clients do not think twice about getting our services because we help them get the most reasonable prices for materials and labor. M&K Restoration makes it possible because of the company's extensive working relationships with manufacturers, suppliers, and management companies.
We make sure you have more than enough options for your commercial flat roof replacement or installation project. You choose what you want, while we install it for you.
Customer Service Beyond Compare
Aside from the professionally trained and experienced commercial roofing Denver, CO team, M&K Resolution also boasts its customer service representatives who are available during business hours from (office hours) to take your call. We are committed to providing the best possible customer experience.
On top of that, call us at (phone number) today, and we'll give you a free estimate for any commercial roofing job. If you have some questions about our services, feel free to send us a message here (link) or email us at (email address).
We are committed to the success of every commercial flat roofing installation and repair job. We believe that the only way to do that is through transparency and full disclosure.
Flat Roof Maintenance and Repair
Modern flat roofing systems last for at least 30 years. But like all types of roofs, they need proper maintenance and repair. If you notice any problems with your roof, call our commercial roofing Denver, CO office at (303) 548-4982. We will send our roofing expert to conduct an inspection. We hand out a free estimate for our repair services.
We are Denver's most reliable commercial flat roofing contractor, offering repair and maintenance services for tar and gravel roofs, TPO and EPDM varieties, built-up roofing, and spray-applied coating systems. If it's a commercial flat roof, we'll handle it.
Give us a call today for your free inspection and estimate.
Call TODAY FOR YOUR FREE INSPECTION
M&K Restoration offers free inspections & free estimates with no job too big or too small!
Speak with our friendly team members today for your FREE inspection by one of our qualified Insurance Claims experts!